Two more items were claimed in January!
With our second IOTM for 2017, I would like to mention some details about Y09 cars. They are commonly referred to as 'export' cars, but technically it is more accurate to say they are cars 'ordered from overseas'.
What is the difference?
Well, some Y09 cars were actually exported while a fair number of them were not. Chrysler had a Military Sales Program for active duty personnel stationed overseas who wanted to order a new car. So, if a serviceman stationed in Germany or Vietnam (as two examples) ordered a new car though this program, it would have been shipped to a dealership of his choice for pick up on his return to the states.
This is one reason that Y09 cars exist with N95 - Evaporative Emissions Control which was required for sale of new cars in California. If ordered from a Pacific duty station & the serviceman was returning via a base in San Francisco or San Diego & he wanted to pick up his new car close by, N95 would have been required.
If you have a 1970 Y09 car & would like to know if it was ordered by a US serviceman from overseas, check your broadcast sheet Y codes for Y09 Y11 & Y14. Y11 indicates 'Domestic Publications' which would have included an invoice from the factory to the destination dealership as well as a US dealer (domestic) on the window sticker. Y14 indicates that a deposit was placed at time of order. Here is an example of the Y09 Y11 Y14 combination on a broadcast sheet;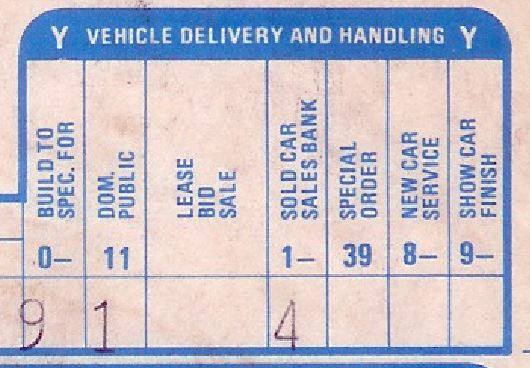 So for our current item of the month, we have a Y09 Y11 Y14 car ordered from overseas via the Military Sales Program for a 1970 Barracuda Gran Coupe with a 318, the VIN is BP23G0B234498 - Thanks for sending it in Earl!

As always, proof of legal ownership & proof the car still exists will be required to claim this item.
Barry Washington