Found Item of the Month — August 2016
Previous Found Items of the Month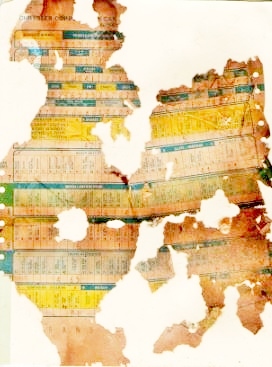 We had another item claimed in July!
14 broadcast sheets were turned in at Carlisle, they are listed in the 'found' section now. Thanks Dennis & Ron!
Al also turned in a binder of old DeSoto invoices & a whole box of dealership records, so I will be adding those as they are sorted & time allows.
Our item for August was turned in by Ron & while it is badly damaged by mice, it is a great historical find! While the entire VIN portion is missing, the VON is there & there is enough data present to confirm that this sheet is for a special order 999 paint Challenger T/A! The VIN should be in the JH23J0B305xxx range & the vehicle order number survived, so if you have a 999 paint T/A please confirm your order number with me to see it is it a match!
As always, proof of legal ownership & proof the car still exists will be required to claim this item.
Barry Washington