Found Item of the Month — August 2017
Previous Found Items of the Month

Another item was claimed last month! On Friday while at the Carlisle show I was checking out two Panther Pink T/As parked side by side. One of the the owners had been put in touch with the person that found a broadcast sheet for his car back in 2015. As I looked at the fender tag on the other pink T/A, I recognized the VIN & knew that I had some records for it here. So I pulled the file that night & gave what I had to Mike the next day. Mike did not get a broadcast sheet with the car when he bought it, but the prior owner had sent in a copy to the original Challenger T/A Registry that was started by Jeffery Coe.
So Bob now has a photocopy of his original sheet as well as the registration from for the car from when the prior owner had it. Hopefully the original sheet surfaces someday & makes its way back to the car also!
This was the 413th time that car records have been claimed since I started doing this & the very first one ever claimed in person. Hopefully there will be many more!
A big thank you to Jeffery Coe for keeping the Registry alive as long as he could & for turning his records over to me years ago.
Thanks also to Bob Kovaleski for the photo.
Click on Image Below to Enlarge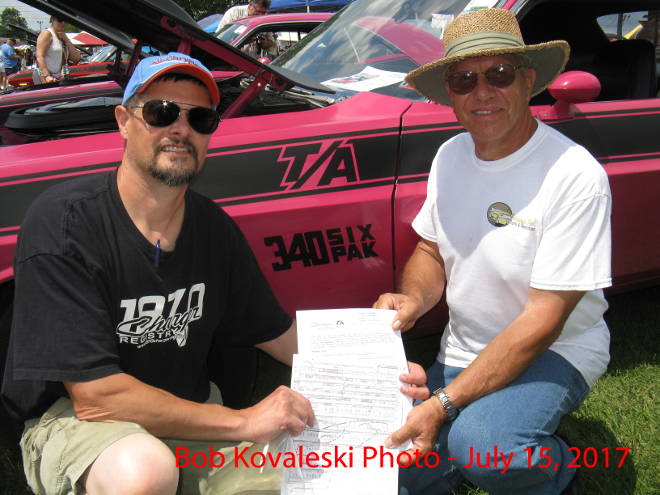 Three of the 91 currently known (so far) Panther Pink T/As were at the show this year.
Our IOTM for August is a broadcast sheet for a 1970 Charger with a 383 4-speed that was found by Russ & sent to the show for us via his pal Donald, the VIN is XP23N0G166670.

Thanks guys!
As always, proof of legal ownership & proof the car still exists will be required to claim this item.
Barry Washington